Burnsville, MN based WeddingBands.com announces the launch of a new diamond anniversary and eternity band collection.  The new collection is made up of larger more expensive pieces due to rising demand of jewelry with a larger total carat diamond weight.
The new ring line start at 2.50-carat total weight and increases from there. It incorporates diamonds that are a minimum of Very Slightly Included in clarity and near colorless at G/H in color grade.
The largest eternity band in the line starts at $16,950 USD and is 5.10-carat total weight (pictured here).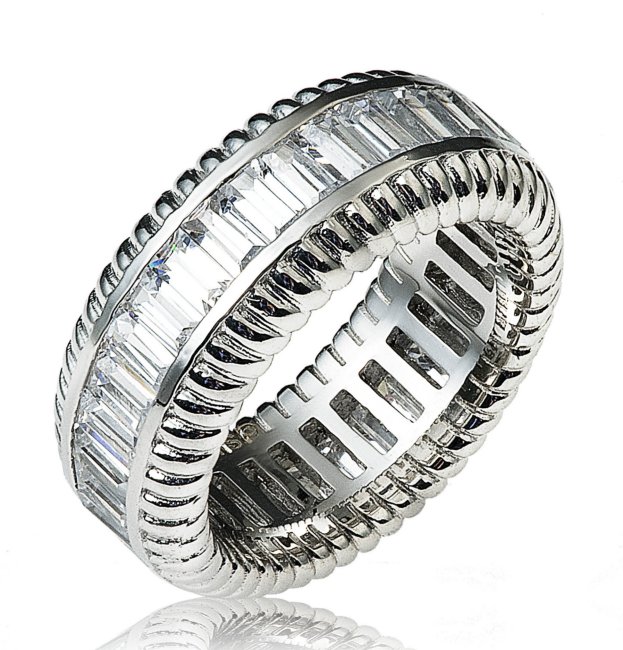 "Our customer base in Australia and the United Kingdom's want for larger pieces increased over the last year. We hope that this new line satisfies that demand", stated Operations Manager, Edessa Kerkinni.
The new line is the start of a company wide initiative to build on their reputation as an online wedding band retailer and start catering to tastes for larger diamond jewelry.  WeddingBands.com's team of designers and artisans is in current works to create a ring by the end of summer 2012 that will start at $100K.
The new higher priced anniversary rings are already online and selling, giving WeddingBands.com a range of rings starting from $90 to $16,950 USD.
WeddingBands.com has been in business as brick and mortar since 1985 and online since 2001 selling wedding and anniversary rings. They offer timeless, unique designer jewelry and manufacture a large selection of wedding bands.