Every year millions of couples plan their weddings and the start of the rest of their lives. Whether you're searching for a classic wedding band, diamond wedding ring, or a piece of contemporary art to occupy your ring finger, here are some trends to keep an eye out for 2016.
5.) Sleeker Lines: With more bridal jewelry designed by CAD programs and created using advanced robotic machinery, we're in an age of physic defying jewelry designs. Part of that progress means more defined and finished lines in bridal ring designs.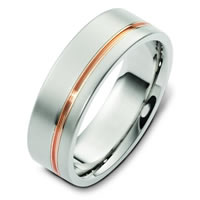 Look for more elegant carving and etchings throughout rings. It's where science meets art as deco designs with smooth lines make way for evolved ivy and floral etchings.
4.) Color Stones: Black diamonds, lavender sapphires, and color gemstones Oh My! 2016 will see a rise of more bridal jewelry incorporating color precious stones throughout the designs. Diamond eternity rings, may come with sapphires and secret settings for on the side or in the shank may offer more color.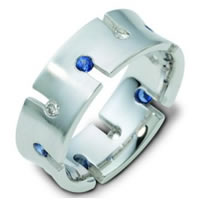 We will see more people using gemstones with the same color theme as their weddings. As well as, diamonds with other precious gemstones. Emeralds, rubies, pink sapphires, and color diamonds.
3.) Rose and White Gold Two-Tone Wedding Bands: We've seen it more and more in years past; adding rose gold to white gold to create an elegant and modern Wedding ring. Rose Gold offers a contrast that's both unique and classic in ways many other trends cannot.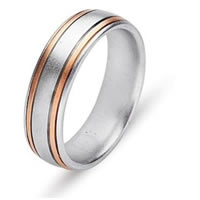 Taking it a step further we may see more teal gold pop up as well. With a pastel look that offers an interesting and elegant sheen to the gold. Both rose and teal gold will be partnered up with white to create beautiful wedding rings.
2.) Stories: Everyone wants to be able to tell a story about the wedding band that represents their eternal love. The history of the ring, who made it, what the design was inspired by, and even where the gold and diamonds came from are all fair game.
Who can blame people for wanting this? It's far more romantic knowing your wedding ring came from someplace special than the factory it was built in. At the end of the day, as buyers we're looking to differentiate ourselves from the next person. With over 5,000 unique styles made to order on WeddingBands.com we can guarantee a unique wedding band made for you and only you.
1.) Lacy Finishes: With the increase in technology in jewelry making you'll see plenty of lacy, thinner, designs that previously were difficult or even impossible to make. Start browsing lacy finishes to wedding rings here with the Verona Lace Line, which are modeled after the forever love between Romeo and Juliet.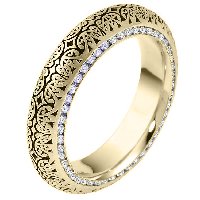 Complex lace designs all along the top of the ring is an instant classic design that even though is modern will be around for years to come.